The Autumn/Winter 2021 Menswear Presentation
Monday 22 February, 1pm GMT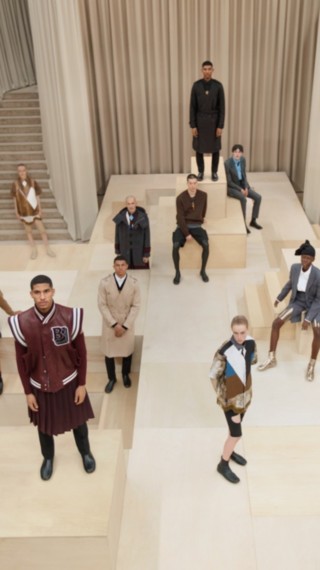 Experience the Burberry Autumn/Winter 2021 menswear collection by Riccardo Tisci – honouring a deep connection to the outdoors, to creativity, to dreams. A new environment is explored as our Regent Street store is reconfigured as a wandering terrain.
Riccardo invited British music supervisor, composer and arranger Bridget Samuels to collaborate as the executive music producer for the presentation soundtrack. Together, Riccardo and Bridget commissioned British composer and multi-instrumentalist Peter Gregson to create an exclusive reworking of his composition 'Sequence (Four)'.
The collection gently challenges and subtly reinvents traditions, inviting freedom of expression. Tailoring has a sense of twisted classicism, whilst quintessential house codes – the trench coat and Burberry beige – are evolved. Details and decoration evoke the notion of ceremony through badges and adornments – symbolising community and friendship, codes of belonging.
'For my first Burberry menswear-focused collection, I wanted to celebrate the freedom of expression. Enclosed indoors, I dreamt of the outdoors and its beauty, fuelled by the thought of the creativity that comes when we are together.'
RICCARDO TISCI, BURBERRY CHIEF CREATIVE OFFICER
Our Chief Creative Officer Riccardo Tisci walks us through his inspiration for the collection from the reimagined Regent Street space – discussing a love of nature, modern masculinity and freedom of expression.
The presentation location itself has a rich history of supporting craftsmanship and artistic expression. Historically, 121 Regent Street was the site of an eminent gallery and its inaugural exhibition dedicated to arts and crafts. This legacy is honoured as the menswear collection is exhibited through a modern presentation in the same environment.
As with our previous three shows, this experience is certified carbon neutral. Measures will be taken to reduce the presentation's environmental impact before offsetting any remaining emissions through Burberry's Regeneration Fund. The presentation was also created in line with COVID-19 social distancing measures.
A film by Marc Isaacs,
shot ahead of our Autumn/Winter
2021 menswear presentation.